UN PASEO COLECTIVO
GUIDED TOUR
EN COLABORACIÓN CON VERÓNICA NAVAS
CAST
Un Paseo Colectivo es un antitour en espacios urbanos a veces públicos, a veces privados y, así, como un rastro sin rastro, nuestros cuerpos recorren las performatividades y coreografías de la ciudad. El paseo convierte las arquitecturas, hasta ahora fijas, firmes y sedentarias, en espacios movedizos, inestables y por ello, subjetivos y dinámicos. El paseo también acentúa nuestra relación fílmica con la ciudad, mirando de cerca, de lejos, en zoom in o cenital. Un Paseo Colectivo es un site-specific móvil creado en contexto.
ENG

A Collective Walk is an anti-tour in urban spaces sometimes public, sometimes private, and thus, like a trail without a trace, our bodies run through the performativities and choreographies of the city. The walk turns the architectures, until now fixed, firm and sedentary, into shifting, unstable and therefore subjective and dynamic spaces. The walk also accentuates our filmic relationship with the city, looking closely, from afar, in zoom in or from above. A Collective Tour is a mobile site-specific created in context.
IMAGES
Photo. Tristán Pérez-Martín, Antic Teatre.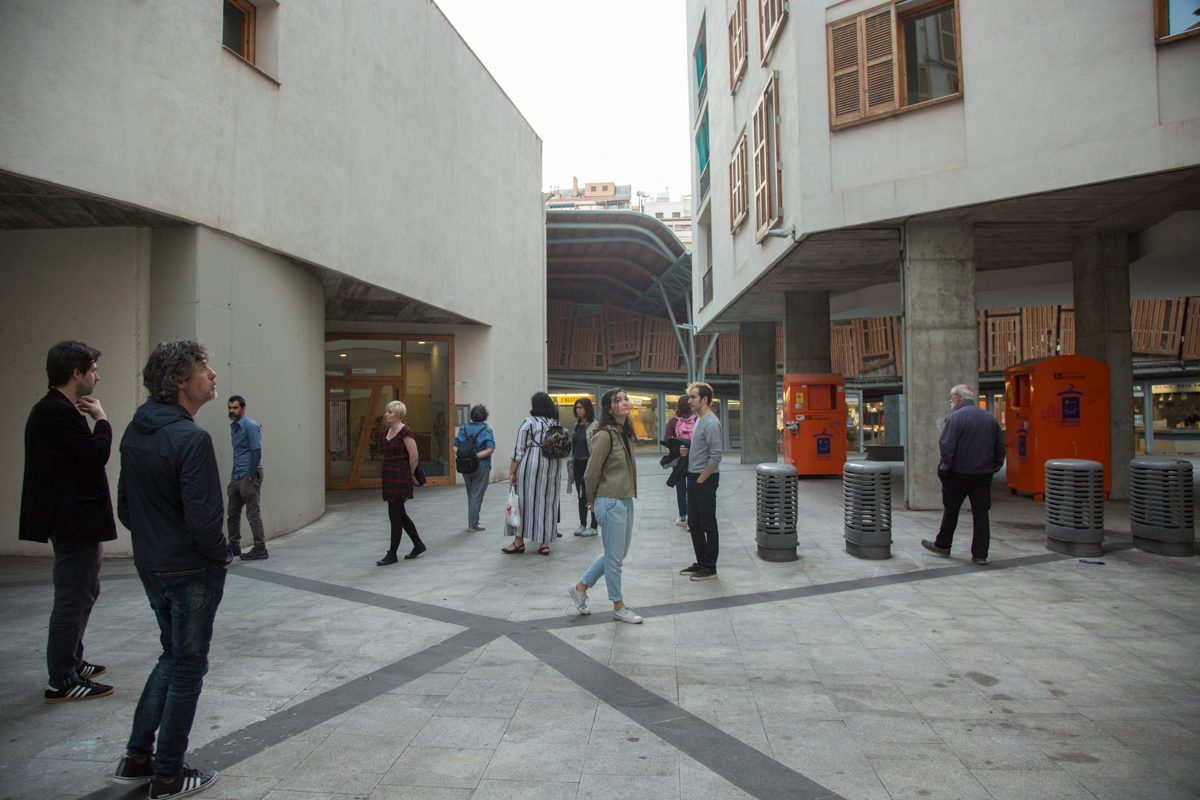 CREDITS
Creation. Verónica Navas y Sara Manubens.
Produced and syported by. Antic Teatre, La Caldera.
WALKS
CCM BORN, La Mercè. Barcelona, 2021.
MUHBA, Relats urbans, teoría i pràctica de l'itinerari urbà. Barcelona, 2020.
CCM BORN. Barcelona, 2019.
Institut del Teatre, Teatro en Espacio Público. Barcelona, 2018.
Festa Major Casc Antic. Barcelona, 2017.
Antic Teatre. Barcelona, 2017.
La Caldera, Acció Mutant. Barcelona, 2016.